The University of Warwick is one of the UK's great success stories.
The University of Warwick is pleased to be able to offer a number of exciting opportunities across a range of finance areas at the University to support our ongoing growth and vision to be a world class university. You will work in a fast paced environment supporting our academic, commercial and administrative activities and provide business partnering support to stakeholders. Finance plays an integral part of any organisation and at Warwick you will play a key part in the decision making processes and ensure that the business runs efficiently and effectively.
The Finance Function at Warwick comprises of a large central finance team working together with a number of devolved finance teams based locally in departments such as Warwick Business School and Warwick Manufacturing Group, and also in campus support functions such as Estates. The Finance Function therefore covers a wide range of activities as detailed below: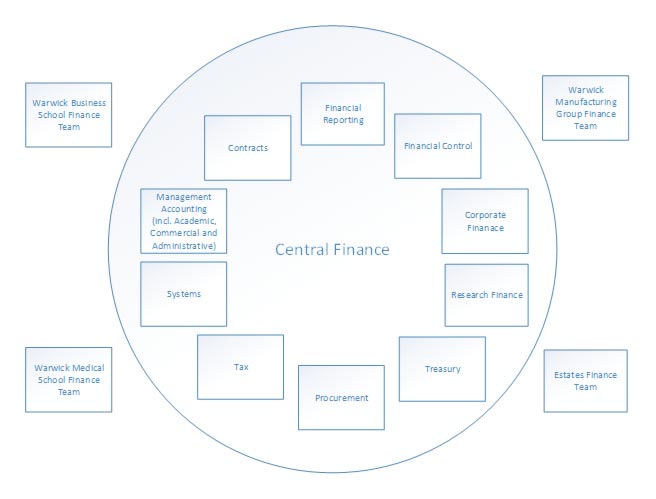 Being at the heart of the University Community, in delivering these services we embrace the University's core values. We possess entrepreneurial flair and combine this with ambition and drive, with the aim of providing a service which exceeds expectations. We endeavour to provide excellence and efficiency in everything we do.
All areas work closely together to ensure that the University can achieve its vision and provide an exceptional service to our significant number of stakeholders. There are lots of opportunities to transfer between different teams in order to get exposure to new parts of the University. You can see more about the experiences of some of our staff on our testimonials page. Working in finance at Warwick is fast paced and exciting, with new projects and opportunities coming along regularly. You will be seen as a key business partner offering advice and guidance on a wide variety of issues.
The Finance function now manages an annual turnover in excess of £500m and this is expected to continue to grow in the future. We have over 20,000 students and nearly 6,000 staff. Our academics are at the forefront of international research in a rapidly changing environment. As a campus based university we have to manage all aspects of our student lives, ensuring that the student experience isn't compromised in any way. We are a complex and interesting business in an ever evolving climate.
As a member of staff at Warwick you can enjoy a range of competitive benefits, along with excellent learning and development opportunities and access to the first-class facilities on campus. We respect and reward achievement and recognise the importance of a flexible total reward package. The University has a focus on a positive work/life balance with the ability to work with a degree of flexibly as well as a significant holiday allowance.